MANSOUR FOUNDATION FOR DEVELOPMENT
ABOUT MFD
Starting out as the Mansour Charity Foundation in January 2001, the Mansour Foundation for Development (MFD) was the first donor NGO to be fully funded by an Egyptian family. The year 2009, was a new onset for the foundation, positioning itself towards growth and recognition in the Egyptian society.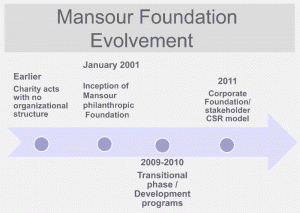 Thus, it went through several mandatory enhancement processes to:
1) Expand & diversify its scope of programs; sharing the country efforts to overcome the world economic crisis that deeply affected the development sector.
2) Moderate & maximize the CSR contributions made by Mansour corporate; transforming it into stakeholder model where the company respond to the needs of stakeholders – customers, employees, communities.
3) Fund & execute numerous development activities; demonstrating new role model in administrating development programs through implementing business standards and values.
Consequently, the foundation re-registered itself as Mansour Foundation for Development–M.F.D- at the Ministry of Social Solidarity under same no. 489.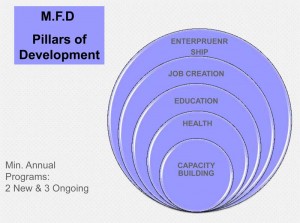 Our areas of interest in the field of human development are 1) Education, 2) Health, and 3) Capacity Building. And targeting: 1) Youth, 2) Women & girls, 3) handicapped children, 4) squatter inhabitants.
Through its strong dedication to social development in Egypt, MFD is considered one of Mansour's approaches to responsible business practices. It is involved in the welfare and socio-economic development of Egyptian society through a variety of methods and is strongly dedicated to the eradication of illiteracy, poverty, and disease to effectively contribute to the development of Egyptian society.society.
VISION, MISSION, AND VALUES
Social responsibility is built on passion, commitment, and duty. MFD is determined to not just assist community development, but to advance and build the society by offering individuals and institutions the widest possible range of development programs, mainly in education, health, and capacity building.
MFD's vision is to become the ultimate role model for a foundation that lives up to its promises and takes pride that funding comes from Egyptian corporations.
As a corporate foundation, MFD's core values come from business ethics. Business thinking, models, and disciplines are applied to developmental programs to ensure that the best aspects of the private sector are applied to civil society.
STRATEGIES
As the human dimensions are the mind of our business model and the heart of our philanthropy programs. Mansour Foundation directions are reset with intense attitude and strong spirit to developing the human element, based on community-driven projects.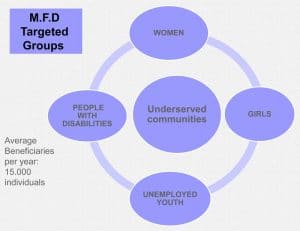 We apply our business management model. Thus, we seek development projects that fulfill our social responsibility whilst also abiding by our business principles that govern our social activities.
In terms of whole project life cycle, we use standard regulations and procedures that ensure utmost quality and trustworthiness.
MFD excels in transferring management know-how to other civil society partners, being involved in the planning, execution, and evaluation of activities in order to maximize project outputs.
That's what sets us apart from other traditional donors; as our role extends beyond grants giving.
OBJECTIVES
Upgrade the facilities and the educational buildings.
Support the unable students.
Provide scholarships internally and externally.
Prevent the girls from dropping out of education.
Erase the literacy of some deprived people.
Development of the health facilities of the deprived people.
Support the health activities in some hospitals.
Provide medical treatment for the unable people.
Provide technical support for the NGOs employees.
Enable certain marginalized sectors educationally and economically.
Support the people with special needs in the field of sports.
PORTFOLIO OF PROJECTS & PROGRAMS
Current Programs
2011 – Till Date "We Will Learn" Initiative – a novel Illiteracy program in 45 days.
2010 – Till Date Youth Volunteerism Program
2009 – Till Date Mansour Young Business Awards
2009 – Till Date Empowering the Microcredit Sector
2009 – Till Date NGO's Capacity-Building Courses
2009 – Till Date "Back-to-School" Educational Activities
2009 – Till Date "Hand in Hand" Athletic-Handicapped Support
Completed Programs
2011- 2012 5 Regional Humanitarian Relief convoys
2011 – 2012 12 Local Food & Medical convoys
2011 Stand up. Take action!! Fighting Illiteracy
2010 Establishment of Alziniya Medical Unit at Luxor Governorate
2010 Alexandria Special Needs Marathon and Relay Event
2010 First Employment Forum for Handicapped at El Sakya Cultural Wheel
2009 Microfinance Program for venerable women in 14 Governorates
2009 Improving Pre-school Nurseries & Orphanages in rural areas
2009 Bridges Crossed…Dreams Fulfilled
2009 Renovation of the Diagnostic Radiation Section
2009 Stand up. Take action!! Fighting Poverty
2009 A Peace Culture Educational convoy to Schools
2009 Third Employment Forum for Graduates at Cairo University
Please join us on Mansour Foundation for Development page on FaceBook.